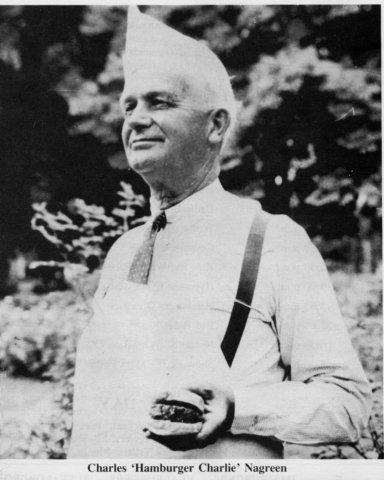 A "Hamburger" (or burger) is a sandwich that consists of a cooked ground meat patty, usually beef, placed in a sliced bun or between pieces of bread or toast. Hamburgers are often served with various condiments, such as mustard, mayonnaise, ketchup, as well as lettuce, tomato, onion, pickles, and cheese.
The burger has a long and controversial history, largely complicated by the fact that there are many claims to the title, but no clear answer as to where it actually all began.
The prevalent theory holds that the name "hamburger" actually has nothing to do with ham or the meat, but rather refers to the city of Hamburg in Germany which, 100 years ago, was one of the busiest ports of departure for those travelling or emigrating to the United States. Germans took with them recipes for their beloved ground meat dishes to remind them of home.
Today, after speaking to many folks from the Hamburg, Germany area we learn that this tradition does not still stand as a large hamburger driven location. But we are happy to say we appreciate the great start!
Subsequently, in the late 19th century, a dish known as Hamburg steak became popular in restaurants across New York. The dish was essentially minced beef seasoned with onions and plenty of salt. The high levels of salt meant that the food was relatively well preserved, making it a good low-cost meat option for the lower classes.
When the idea of Hamburg steak transitioned into the hamburger we know today is still unclear. There are a number of claims set
between 1885 and 1904, all situating this miraculous invention somewhere in the United States.
"One of the more compelling burger invention legends is that of Charlie Nagreen from Seymour, Wisconsin. In 1885, at his local county fair, Charlie introduced a sandwich filled with meatballs that was designed to be eaten on the go."
This signalled the creation of the original hamburger while spurring the start of the fast-food industry that soon thrived on the need for people to grab a quick, inexpensive bite while on foot. To this day, Wisconsin maintains a Hamburger Hall of Fame and hosts a burger festival every August.
While burger patties served between two plain slices of bread began to crop up across the country, the introduction of the all-important bun did not occur until a few years later.
A gentleman by the name of Oscar Weber Bilby from Tulsa in Oklahoma owned a fast-food stop called Weber's Root Beer Stand. Apparently, around 1891, Oscar jumped upon the idea of using his wife's home-made buns to serve his burger patties. The rest is history. Over time tomatoes and lettuce were added, as well as all manner of condiments and, of course, pickles, cheese and bacon. These ideas were first imagined in the 1920s by the White Castle restaurant chain and its visionary Edgar Waldo "Billy" Ingram, Bob's Big Boy in Burbank, California in the 1930's, and was refined by McDonald's in the 1940s.
Today burgers are arguably the most popular fast food – it is estimated that McDonalds has sold 100 billion beef hamburgers worldwide since they first opened their doors in 1937, and is a multi-billion dollar industry in its own right. (sources Woolworth, & Wikipedia)
The Acadiana area has a very large number of real-meat and home-made hamburgers if you are are a burger lover! Click here to get excited about well over 100 hamburger locations in 8 parishes in Louisiana. Louisiana is not known for its large burger population. But we are soon learning that with many great cooks, come some really great burgers also!
Click here for hamburger fun
For information to The Hamburger Hall of Fame located at 126 N Main Street Seymour, WI 54165 Phone: (920) 833-9522
Follow AcadianaHamburger.com on facebook by clicking here.